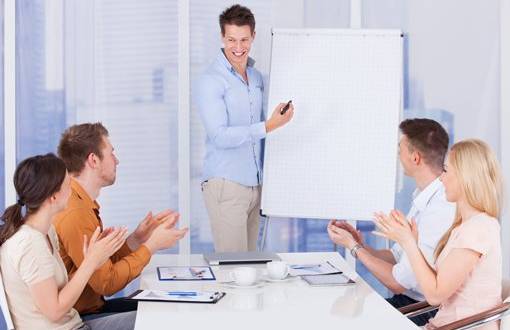 Real Estate Training October Dates
Real Estate Training
Property Training Australia is offering face to face real estate training throughout Queensland.
PTA has been offering Real Estate & Property Management Training Since 2003 (formerly Property Training QLD) and we pride ourselves on offering the most comprehensive and personalised training available.
October Face To Face Training Dates are Filling Fast!
We currently have a limit to the amount of students we can have in our classes and with only a few classes left for each location in 2020 the positions won't last long.
Once you complete your qualification in class with Property Training Australia you will need to lodge this with The Office of Fair Trading (Government) who issue all licenses.
Enrol now to secure a seat.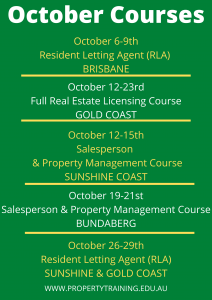 Full Real Estate Agents Licensing Course
When considering a career in Real Estate and undergoing your training to become an agent there are two options to begin. Firstly, you could complete the Salesperson & Property Management Registration Course or you could choose to complete the full real estate agents licensing course.
In QLD there are 19 units of competency students must finish in order to become a Fully Licensed Agent (meaning you can own and operate your own Real Estate Agency as the principle agent).
However, some people wish to get their feet wet in the industry first before they take the dive. For those people we suggest beginning with the Salesperson & Property Management Registration Course, this covers the first 7 units of competency in the Real Estate Agents Licensing Course. It makes the process easy to upgrade to a Full Real Estate Agents License in the future if required.
Units of Competency:
(Units delivered through the Sales and Property Management Course are shown in italics)
CPPDSM4080A Work in the real estate industry
CPPDSM4009 Interpret legislation to complete agency work
CPPDSM4008A Identify legal and ethical requirements of property sales to complete agency work
CPPDSM4012A List property for sale
CPPDSM4022A Sell and finalise the sale of property by private treaty
CPPDSM4010A Lease property
CPPDSM4015B Minimise agency and consumer risk
CPPDSM4005A Establish and build client-agency relationships;
CPPDSM4003A Appraise property
CPPDSM4018A Prepare and present property reports
CPPDSM4013A Market property for lease
CPPDSM4014A Market property for sale
CPPDSM4019A Prepare for auction and complete sale
CPPDSM4011A List property for lease
CPPDSM4046A Manage tenancy disputes
CPPDSM4016A Monitor and manage lease or tenancy agreement
CPPDSM4007A Identify legal and ethical requirements of property management to complete agency work
CPPDSM4006A Establish and manage agency trust accounts
BSBSMB406 Manage small business finances
How to obtain a Full Real Estate Agent's License in Queensland?
The Real Estate Agent's Licensing Course is for those wishing to own & operate a Real Estate company, undertaking management rights in which you can list and sell properties on and off site, as well as open and operate a trust account or to work as an independent contractor.
The Real Estate Licensing Course covers 19 units of competency and costs $2125. You can choose to complete the course in class, via online studies or through private tuition (extra costs for private tuition).
There are a number of ways to obtain your Full Real Estate Agents License; you could complete the full course at once (all 19 units), you could opt to begin with the Salesperson & Property Management Registration (7 units) and then upgrade at a later date.
Alternatively, some students have completed a Resident Letting Agents Course (RLA Course, for Management rights) and will then need to complete an 'upgrade to sales' course as well as a 'fast track course'.
It is suggested that resident managers of managed apartment blocks/complexes opt for this license instead of simply an RLA license as it means they can also make sales while conducting the letting business.
Be your own Boss
By completing the Full Real Estate Agents License you are capable of owning and operating your own real estate business. Having only a Salesperson license will not qualify you to do this. By having your Full Real Estate License you will be able to hire sales staff and as the principal-agent, you make a commission of all sales from your office.
Property Training Australia (formerly Property Training QLD) has been offering Real Estate Training since 2003 and we have trained 1000's of agents throughout Queensland.
Being a family-owned and operated business PTA has always prided itself on the quality of training it offers to all of its students. We don't just teach you the units, we teach you how to lead the industry and really maximise your income by worker smarter not harder.